Windows OS Client now with WireGuard
Today we are delighted to announce the latest improvement to our VPN infrastructure and service. The result of which is a brand-new Windows OS client secure with WireGuard.
In case you missed it, we have made significant improvements to our VPN infrastructure and service. The result of which is a brand-new Windows OS client secure with WireGuard. All customers can upgrade immediately by downloading the new client below.
This new client features the latest in VPN security technology and continues to service all existing server locations you have come to know and love with AzireVPN. Additionally, we are working on releasing new clients for additional operating systems in the coming weeks and months. Our commitment to your privacy and security remains our only priority.
AzireVPN Windows OS Client Features
- WireGuard Secure
- 20 Secure Owned Server Locations
- User-friendly 1-Click VPN Client – No complicated configuration required!
- Blind Operator Mode
- No Logging
- No Personal Details Required on Sign-up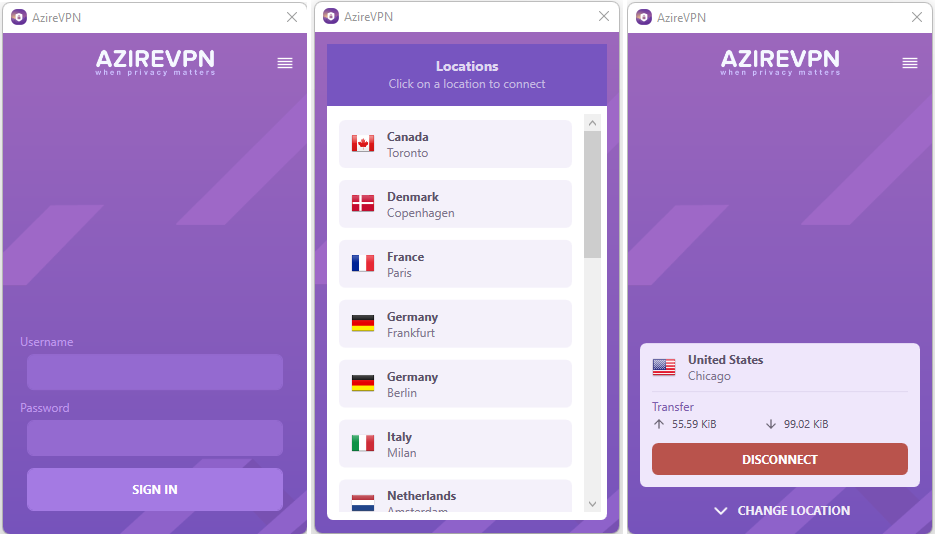 THE WIREGUARD ADVANTAGE
IPsec and OpenVPN have long been the traditional technologies behind nearly all VPN services operating today. WireGuard is the latest improvement to VPN technology, improving upon the two most critical aspects any VPN user cares for: Security and Speed.
WireGuard uses a state-of-the art encryption suite to protect your traffic:
- ChaCha20 for encryption
- Poly1305 for authentication and integrity
- Curve25519 for the Elliptic-curve Diffie–Hellman key agreement protocol
- Smaller Code Base
And because it features a much smaller code base to deploy a higher level of security – its speeds are unparalleled, allowing you to operate at the speeds you expect, with the security you and peace of mind you should have.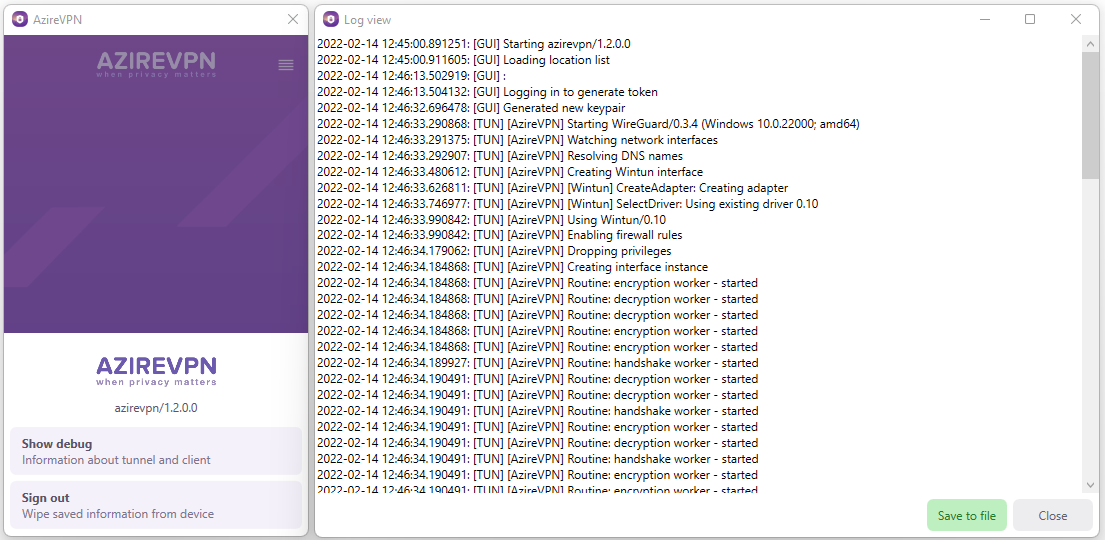 SIMPLY SECURE – KEEPING YOUR TRAFFIC PRIVATE
Our core principle and only priority from the get-go has been client privacy and security. The recent upgrade from OpenVPN to WireGuard is just one of many improvements we have implemented over recent months. As mentioned above, we will be transitioning all clients to WireGuard in the coming weeks and months in order to ensure all your devices enjoy the same level of service.
We are also continuously working on adding to and updating our infrastructure regarding additional dedicated owned servers. While other VPN services rent their servers, we have gone the extra step to ensure pure client privacy and mitigate as much risk as possible when it comes to security issues.
Your feedback and input on what you value in a VPN service continue to be critical to the way we do business and encourage you to reach out should you have any questions or comments about what you would like to see improved.
As always, thank you for your continuous support – please stay tuned for future product and service improvement announcements.